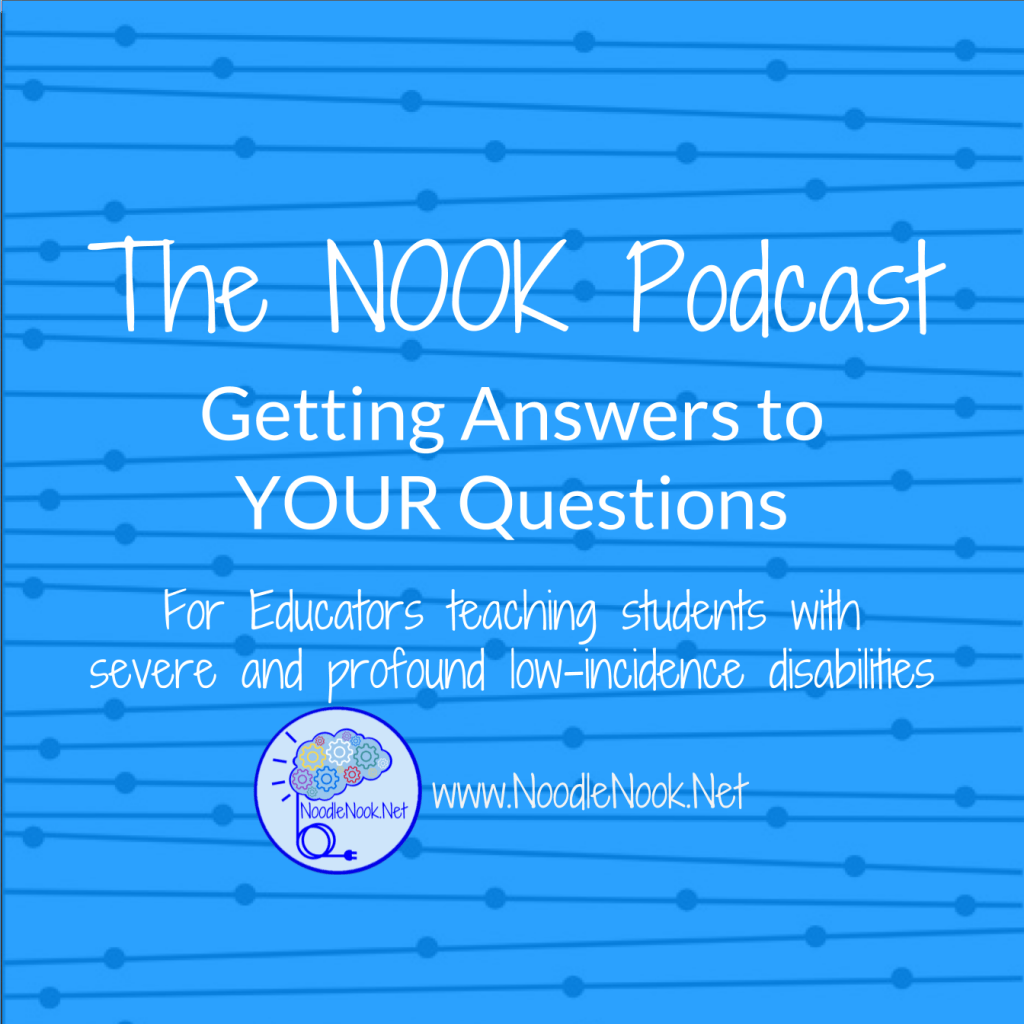 Podcast: Play in new window | Download (58.6MB)
Don't Miss the Next One- Subscribe! Android | RSS
Podcast SHOW NOTES
---
Hello everybody and welcome to episode one of The Nook!
Thank you so much for joining me today for our inaugural podcast. Every episode I plan on being here to help you by answering your questions about teaching students with severe and profound disabilities including autism. And we have some great questions on deck for you in the next few episodes that I can't wait to share with y'all.
But before we get into what's coming up on The Nook I wanted to let you know you can have your questions answered right here on this podcast by submitting them on the Noodle Nook website. You could do that by going to www.NoodleNook.Net/podcasts and if your question is chosen you will get a free resource from The NoodleNook store where you could choose from adapted books for science, math, English… Maybe one of the themed monthly units, or possibly math activities for algebra and money. You can have whatever you choose, so please head over to NoodleNook.Net/podcasts and submit your questions today. alright so here's some of the questions we have coming up on future shows.
Rebecca wants to know some of the things she should know about teaching students with autism. And that's a great question that's so many teachers wonder about, especially those who come to autism units or life skills units for the first time. It can be so difficult to come from a general education or in class support type setting into a life skills or Autism unit for the first time. And I think that's a great question Rebecca, we're going to talk about that in future shows.
John has another great question. If a child who cannot communicate well displays frustration by hitting and pinching people and pets, how do you teach them to stop. I can tell you right now John there is nothing worse than getting hit, pinched, punched, or spit on when you are at work doing your job trying to teach students to learn. It's a great tool to be able to learn how to curb those behaviors before they start. Wonderful question that we are going to answer on another podcast.
Talia seems to be having issues with her class and transitions and wants to know how to help her Autistic students deal with transitions. Again, another great question! I love these questions and I can't wait to answer them on upcoming podcast. So many of you guys have questions out there on how to be the best teacher you can be when it comes to working with students and low incidence populations and those with severe disabilities like autism. I am so glad to help you in any way I can and I can't wait to produce more of these podcasts! We need all the great teachers we can get, so stay strong and teach on!
Don't miss the next episode, subscribe right now by visiting www.noodlenook.net/podcasts.  See you next time!