10 FREE Printable Math Centers for K-5 & Autism Units
Here is the challenge- you are working with students who are functioning at a vast array of levels. You are continually trying to figure out how to differentiate materials and keep it all interesting. This is no easy task. Good News- This post will make your life easier! Below you will see 10 Math Centers with activities that, once printed, can be used several ways to address the needs of your students. So… let's math on!

Free Printable Math Center for Geometry
As teachers, we have the difficult task of address the standards, like those in an Algebra class, with students who are minimally responsive or barely able to count to five. Yikes. The important thing to remember is that you are addressing the standards through a prerequisite skill. So counting may be the prerequisite skill a student is learning as a way to access the standards of their enrolled class.
For Geometry and all prerequisite spatial skills can be addressed with this quick printable- 2D & 3D Shapes from The School Supply Addict.
(You may also want to print the numbers 1-120 to use as a response mode for nonverbal students).
Differentiate this Activity:
Print 2 copies of the 2D shapes and make a matching file folder activity.
Print 2 copies of the 3D shapes and make a matching file folder activity
Print 1 copy of the 2D and 3D shapes page and make a matching activity (matching the 2D to the 3D shape).
Print a copy of the 2D page and have students count the sides and corners. (Use the FREE PRINTABLE WORKSHEETS from MathWorksheets4Kids HERE or HERE to support this activity!)
---
---
Free Printable Math Center for Algebra
Same thing happens in Algebra. How often do we use the language of 'solving for X' when we work on math. Seldom- it's always about finding the answer, but using the lingo is important.
Here is a great printable that you can use with the Unifix cubes in your classroom. You can also Build It with Legos. Thanks to ThankGodItsFirstGrade who has made Build It!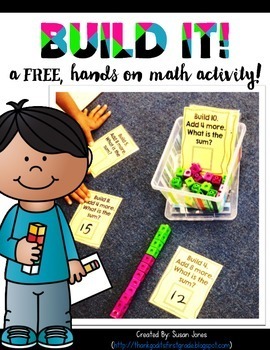 You will only need to print one copy of these cards for your center. If you need two, print on two different colors so you can separate them easily. If you need to work on addition and subtraction, check out this resource here.
Some students will work only on 1:1 correspondence and just Build It.
Some students will 'Build' the first number and then 'Build' the second number (in a different color). Then have them use 1:1 correspondence to count the total to work on larger numbers. May need a number line or other adaptations.
Some students will build it independently to solve for X.
Some students will create an equal equation by finding two Build It cards that create a balanced equation.

Free Printable Math Center for Money
We all have systems in the classroom for sorting bills and coins, but we need to move beyond that. Try this free printable from 123Homeschool4Me.com by getting this Grocery Task Money Game here.
Get Your FREE Printable HERE!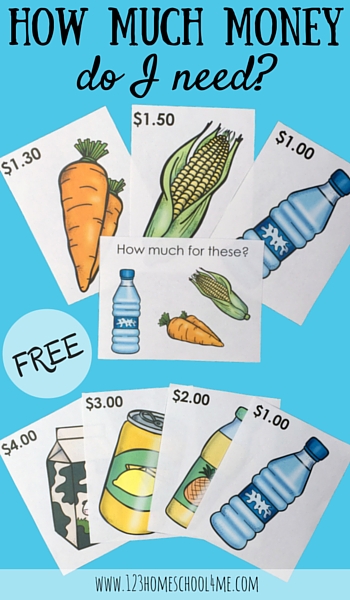 Differentiate this Activity:
Have students get the amount on the card with multiple combinations (like with quarters only, multiple coin combinations, bills, etc.).
Have students add value of two items together.
Have students solve the order task cards at the end.
Have students pay with a larger bill and then make their change.
Have students write a check for the total.
Have students calculate tax based on your local tax rate.
Have students add tax, determine new total, and get payment.
Have students add tax, calculate a discount percentage, and calculate total, then add multiple purchases.
I know! You are in love with these activities and this set- aren't you?
Looking for another real life money activity? Check out this Money Math Activity that makes a perfect center- just download the preview for a FREEBIE!
…
---
---
---
---
…
Free Printable Math Center for Numeracy
Finding meaningful numeracy activities is overwhelming. But there is a page on The Measured Mom with 10 different clip printables! Visit the page to get to several printable clip activities (like the one below) and print away!
But for a quick printable page, pop over and get the transportation clip card activity HERE.
Nurture Store also has a free printable number wheel activity HERE.

You will always need to work on 1:1 correspondence and activities that build number awareness. Most of the other activities in this post can help you with activities to build this skill.

Free Printable Math Center for Telling Time
We all have students with time goals. This activity center can address that. Will find a lot of repetition will work well with those students and generate a lot of data for you. Visit Fern Smith's Classroom Ideas page for a free printable clock activity.
Differentiate this Activity:
Have students who are working at a higher level? Work on these clock identification activities but then also ask them to tell future time: what time will it be in half an hour? What time was it 12 hours ago?
Need an independent style activity to supplement this center? Try this time printable that makes a great matching center too!
Thanks to Allison Jones for this FREEBIE!

Get Your FREE Printable HERE!
Free Printable Math Center Game- Dice
I love so many things about using dice- mostly the versatility! Get your free printable from FirstGradeParade.
With the dice, you can do these Differentiated Activities:
Have students roll (1 or more die) and use 1:1 correspondence with manipulatives.
Have students roll (1 or more die) and orally state the number.
Have students roll (1 or more die) and find the corresponding number representation.
Have students roll (1 or more die) and write the corresponding number representation.
Have students roll 2 or more dice and create two digit numbers to write or 1:1 correspondence.
Have students roll 2 or more dice and add, subtract, or multiply to find a total.
Have students roll 2 dice and identify the larger and smaller number.
Do you need printable dice? Please check out the Dice Math post here at NoodleNook.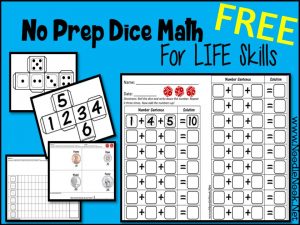 And there is a page included that works as a great dice activity with money!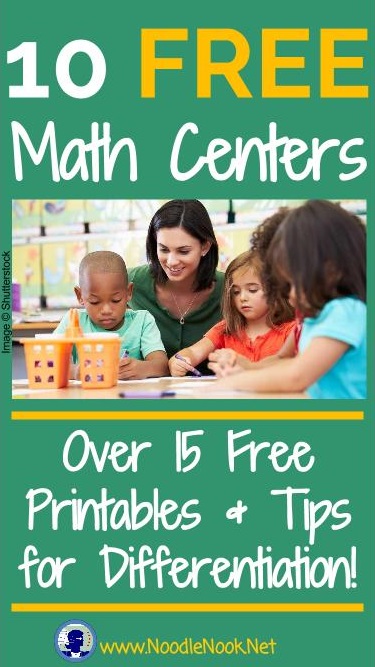 Free Printable Math Center Game- Dominos
Dominoes are wonderful,but noisy when they drop. That's why I have linked a FREE printable so you can make some quiet dominoes for your classroom. Thanks to Nicole & Eliceo! Once you've printed these, you can choose to laminate them or just leave them be. I would also suggest printing two copies, each on a different color paper. You can use them for two sets at a time, or for two students to play war!
Differentiate this Activity:
Have students partner and place their domino down. The highest one gets both dominoes. The person at the end with the most wins!
Have students use 1:1 correspondence to count on a number line.
Have students identify the number on the dice that is more or less.
Have students count the dots on the domino.
Have students sequence the dominoes from least to most.
Have students add, subtract, or multiply the two sides
Or have students take two dominoes and have them add, subtract, or multiply.
And I love this activity from The Kindergarten Connection's printable to practice addition and possible also solve for the unknown or solve for X!
Get Your FREE Printable HERE!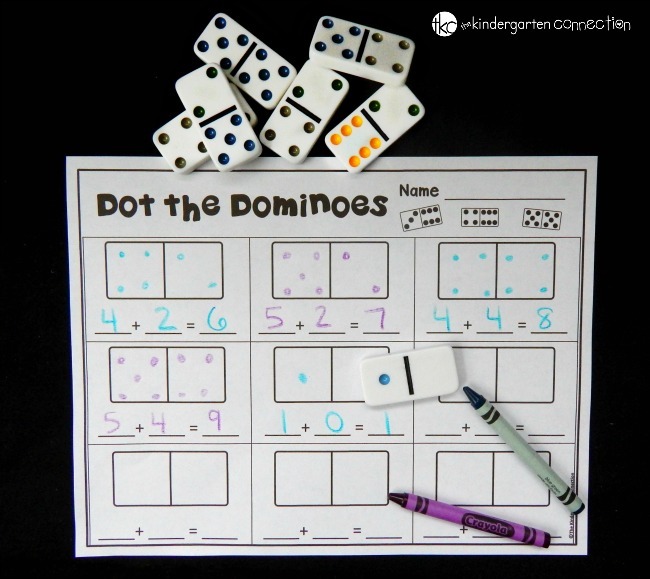 Love incorporating Algebra- and this activity is a nod to the standards… Let's solve for the unknown!
Free Printable Math Center Game- Playing Cards
Denise Gaskins has a list of several games to play with cards. I suggest visiting this site and printing the page so you have a list.
She links through to plenty of freebies, but you may also need a printable card set, so pop over to Tim's Printables and print his Playing Cards, which you can personalize with your classroom number, student pictures, or any image! This will increase your student's buy in with this center, so get this FREEBIE now!
Free Printable Math Center Game- Legos
I have so many Legos at my house! It may be my secret obsession. When my kids go to bed, sometimes I build things- it's relaxing.
So you know I have to include activities for Legos. I came across this adding Lego Activity at HomeschoolingOnADime and had to print it out for a classroom center.
And there is more you can do to Differentiate this Activity with Legos.
Students can add the dots that are on a random handful of Legos.
Students can use them for 1:1 correspondence.
Students can use them to understand multiplication (using similar sized Legos- each Lego is an array with a given set of dots on each).
Students can use them to build 2, 3, or more digit numbers.
These printable cards from TheStemLaboratory are also a great activity. And it also supports color recognition! Had to include it as a bonus!!
Want to embrace Legos more in your classroom? Visit EncouragingMomsAtHome for an extensive list and links!

Free Printable Math Center Game- Unifix Cubes
With all of these little colored gems in your classroom- the list of activities for Unifix Cubes is nearly endless. I love the Measured Mom and she has a list of 12 activities you can do with unifix cubes. I highly suggest checking this post out.

And to add one more great FREEBIE, Pop over to HeidiSongs.Com for a Patterning cubes printable. This is another prerequisite skill for several math standards and with the cards and cubes, you can still keep the activity pretty slim.
In addition, these cubes make great manipulatives to use with the Algebra activities and dice or domino activities listed above.
Free Printable Math Center Extras
Still feel like you needed more? Here are one extra free printable activities that you can add in. It does not take up much space and can be used repeatedly.
Okay. Phew.
That was a lot of printing and bookmarking! Now you can update your Math Centers without spending a dime. Remember, when you start your centers you have to spend some quality time explaining the center, modeling the behavior, and for students who are Autistic or with multiple disabilities, be sure to answer the 4 questions of a Work Station:
→ What do I do?
→ How much do I have to do?
→ When am I finished with my work?
→ What do I do after I am finished?
Be sure you address these questions as you design your center and work on the transitions.
---
---
Last Bonus!
I want to make sure you click away with one final bonus printable- but before you get it, please pin this page, share it, tweet it, and post it. Give you friends the gift of work already done for them. So, your bonus is a set of free blanks printables like grid paper, number lines, and blank clocks. Nice to have at hand for your specific instruction- thanks to Five J's Homeschool!
….
---
Enjoy This Post and Looking For More? Check These Out!
….
---
NOTE: This post contains affiliate links. By clicking and purchasing, I receive a small commission, which is used to support this website.