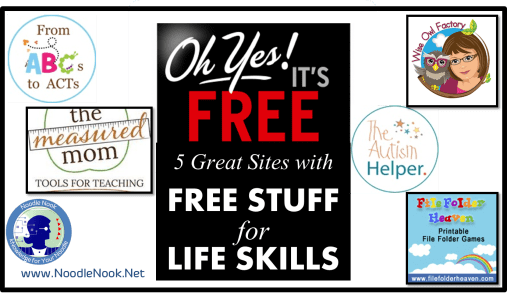 Free Stuff for LIFE Skills
It is not often that I take time to shout out others who create materials for students with special needs- but there are so many of us out there who rely on the materials made from others to support our instruction. So, and I get no kick back here, I have to shout out a couple of great places for free stuff for LIFE Skills.
If you do not know about Measured Mom yet, you are in for a wonderful surprise when you click over to her site. There are fantastic and FREE materials for the LIFE Skills classroom that you can click and print. She has 500- YES 500- free printables that include clip cards, emergent readers, folder games, and they address reading to math and everything in between. If you have not been there- go now! Oh… and follow her on Pinterest– I love all the things I see on her boards!
This fellow blogger has an entire page of free items on her site. An. Entire. Page. It is broken down by category, so it's a little easier to find and she has over 350 free printables available. It is another goldmine in the free stuff for LIFE skills category- especially what is listed in the monthly categories (some other categories are for e-members). The real jackpot is all the pins she has on Pinterest– and others have noticed. She has over three hundred thousands followers- check it out.
Loads of printables and lots are free. Who doesn't love that? When it comes to early elementary or students of that developmental age, nothing beats some of the things on this site. Not everything is free… but the ones that are make clicking over worth it.
I can't lie… I downloaded a load of stuff from this site and used it in my classroom. The materials are well made, totally useful, and best of all… free! Like the name suggests- it is heaven! Try some of these sample Freebies!
Although they do not offer as much free stuff for LIFE Skills, they do have a FREE Printables page with lots of posts. Moveover, there are so many ideas on this site waiting to be explored about every topic relating to LIFE Skills and Special Ed too… you'd be remiss not clicking over and looking around.
Though she is not a blogger, she has some fabulous looking clip art in her Etsy store and a few freebies on Teachers Pay Teachers. I love the whimsical look of her products and if you are looking for something specific, she will do her best to help you out. Definitely worth clicking over and taking a look. I used her free labels on Teachers Pay Teachers to organize my classroom. Super cute!
I know better than anyone how hard it is to walk into an empty classroom with very few materials and lots of eager learners. Finding free stuff for LIFE Skills students makes teaching them that much easier. I hope this helps you as much as it helped me. Do you know of more places to get great free stuff for LIFE Skills? Post the sites in the comments so others can share in the wealth! And don't forget to get the free materials on this website too…