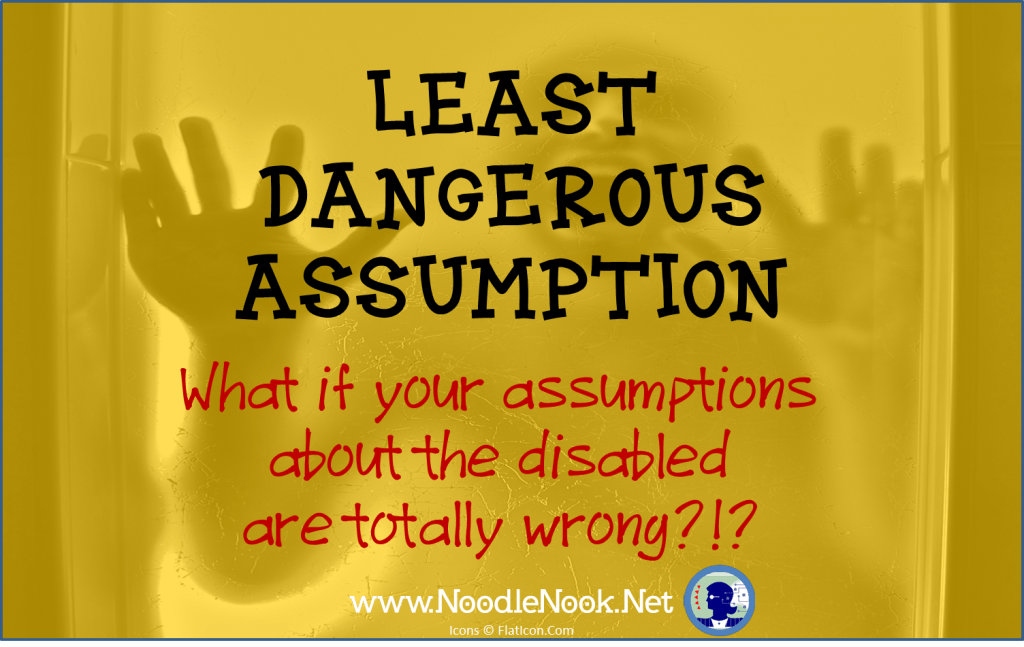 It sounds so much like common sense, but there are lots of teachers and paras in LIFE Skills classrooms that fail to adhere to this basic principle- and it does immeasurable harm. What is it? And how can you make sure you're not failing your students?
Imagine you're walking into a new year in LIFE Skills. There you see some old familiar faces of students you have worked with before as well as a few new students you have never had before. You look through their paperwork and get a gauge of the student's levels and start planning your activities. A new student is coming to you with a low IQ, labeled ID with a low developmental age, is sometimes non-responsive because of extensive seizures, and has no real means of communication though she does have very loud vocal outbursts. You wonder how she will interact with another student who you have had for some time who is sensitive to noise. He is severely autistic and has a speech impairment. He rarely talks except to echo what others are saying, but even that is pretty intelligible. He is pretty low and has a lot of self-injurious behavior. No worries… You're already forming a plan in your head and this year is going to be great- but have you already gotten off on the wrong foot?
Getting IQ information and using it to develop a plan for students is thought of to be best practice, but think for a second about how being non-verbal or minimally verbal can impact intellectual assessments. Can those IQ test really capture the real intellectual capacity of a student?

Many years ago a member of my family had an episode of Bell's Palsy and it impacted his ability to speak for several weeks. After it had passed, he told me that one of the hardest things to get over was his inability to talk with people. Even though he was cognitively with it, he couldn't easily join in on conversation and it made him feel different- and not in a good way. He had paper and pencil, but that never really allowed him the ability to just chat and he noticed people treated him differently.

It brought me back to the story about Carly Fleischmann. Here is a girl with autism who reminds me of several students I see in our LIFE Skills classrooms, but what she says about why she does some of the things she does is really enlightening. What people say about her with her in the room and when people assume she is 'retarded' is equally disturbing. To see Carly's story, click here.

?

In 1984, Anne Donnellan, a respected special education researcher, wrote:

"the criterion of least dangerous assumption holds that in the absence of conclusive data, educational decisions ought to be based on assumptions which, if incorrect, will have the least dangerous effect on the likelihood that students will be able to functional independently as adults."

What does all that mean? Well, what if you're wrong? What if you are making some assumptions about a student's intellect and treating them accordingly… and you are dead wrong? We do this all the time. We make assumptions when we aren't sure what a student knows, what they can learn, or if they even have something to say and that guides our decisions about things like classroom placement, participation in learning activities, and social interactions-  and it is based on this presumption that they don't, can't and probably never will.

What we need to do is flip that paradigm and work from the assumption that IF a student is not learning it is because of the way WE are delivering instruction… and IF a student is not communicating, it's because WE have not given them a consistent mode of communication. Most importantly, we have to be motivated by least dangerous assumption– presume full competence and treat our students accordingly and with adult words in a respectful manner.

Take the story of Martin Pistorius, author and former LIFE Skills student. He was in a situation where he felt trapped inside his own body. The people around him made a devastating assumption about his intellect based on his physical limitations. To see Martin's story, click here.

Hopefully, after seeing these two videos and hearing their powerful stories, you'll start making the least dangerous assumption and guiding your support staff to do the same. We must presume competence and treat students with dignity.
Share these stories online and help to raise awareness about students with disabilities- Tweet, Pin and Post!
Want an image to post in your classroom? Use this FREE Tip infographic to keep everyone making the least dangerous assumption and communicating with students who are limited or nonverbal.