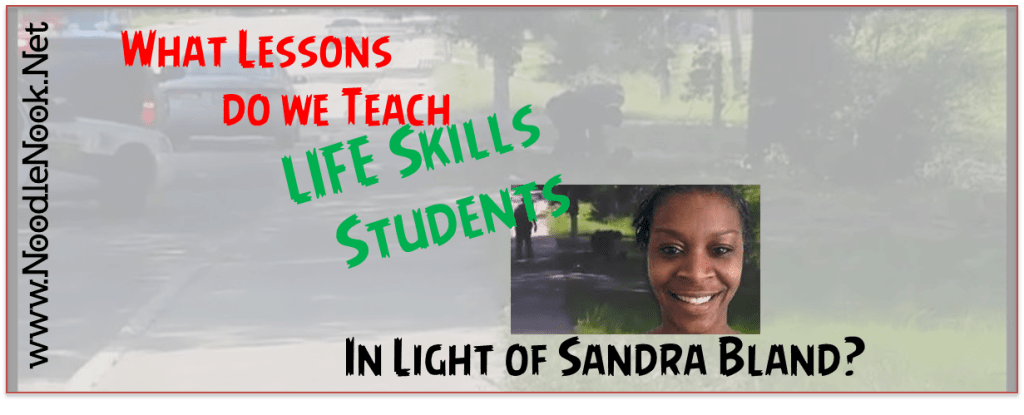 What do we need to teach our LIFE Skills students in light of the Sandra Bland arrest and death?
There has been a lot of press lately about the death of Sandra Bland, and so many others, while in police custody. With the dash camera video coming out today, what lessons do we need to teach our LIFE Skills students about the police?
If you haven't seen the video yet, watch it here on Fox 26 News.
When I first watched the dash camera video where Sandra Bland's failure to signal quickly escalated I was aghast… I would have done the same thing. I would have explained how I was upset about the ticket. I would have refused to change my behavior while getting the ticket (like not drinking my coffee or holding my phone)- after all, I'm inside my own car. I would have refused to get out my car unless I was told why I was being removed. I would have recorded the interaction and (just like when I was pulled over in Illinois two years ago) explained that I have the right to record the interaction (similarly Sandra and I were both told we could not and made to stop recording). And I would have been vocal throughout the exchange about my rights.
I guess that means I would also be dead.
If you don't know about Jason's story (caught on a body camera), click here.
I think back to Jason Harrison's death as well. The police were called by a parent of a mentally disabled son who needed help. She called the police and before she could tell the police he was bipolar and schizophrenic, the officer saw a screwdriver, asked for Jason to drop it, and then killed him when he failed to comply- all in under a minute.
So, when it comes to my job of readying the students in LIFE Skills classrooms for real life, what lesson do I need to teach them. Truth is the local news coverage about Sandra Bland nailed the lesson (thanks Fox 26)- no matter the request, you must comply with police officer request. Even if you're mad. Even if you're right. Even if you're being asked to do something you don't want to do. You. Must. Comply. Or you could end up dead.
I'm not sure how many times over the years we have seen people of color injured or killed by police officers for no justifiable reason. Equally as disturbing and less covered are the number of people with disabilities who are also injured or killed every year by police officers. Over 125 people with signs of mental illness have died this year at the hands of the police. So far. (See this post from NPR.)
I worry about what to tell my kids and my students when it comes to interacting with the police. We teach them that police officers are community helpers and we can trust them. But when so many people are being injured or are dying at the hands of those who are supposed to help you, is that really the lesson we need to keep teaching?
Add to the conversation by posting your take
on the lesson we need to teach our LIFE Skills students in the comments section.
And post this to Facebook and Twitter to keep the conversation going #BlandLIFESkills.