Social Stories™ were first created to help people with autism cope with social situations, but it's a great idea to use Social Stories in LIFE Skills.
At its core, social stories in LIFE Skills or in any setting describes a situation, a skill, or relevant social cues that are specific to a student. The overall goal of a social story is to share social information in an easily understood way for a particular person and situation.


Using Social Stories in LIFE Skills
In the classroom, a teacher can create a social story to talk about routines, social interactions, and target behaviors that address the needs of a particular student. With all the flexibility, you can really address specific needs. The key is to write from a student's perspective and make it about the student with a level of concreteness that a student can really relate to.
Using social stories in LIFE Skills can go beyond just students with Autism, though that was their original intent and where a lot of the research started. Any student who has a hard time predicting what happens in different social situations can have successful outcomes with the repetition that comes from social stories.
---
---
Creating Social Stories in LIFE Skills
When you are looking to target a behavior or improve a student's behavior, social stories may do the trick. When you pair a social story with images of the actual student, a true social story becomes a wonderful visual script for a student as to how they should behave and what they can expect. Though social stories do not work 100% of the time, most professionals say that efficacy is above 90%. This intervention will only work with lots of repetition using praise, an opportunity to practice through role play, and then generalize.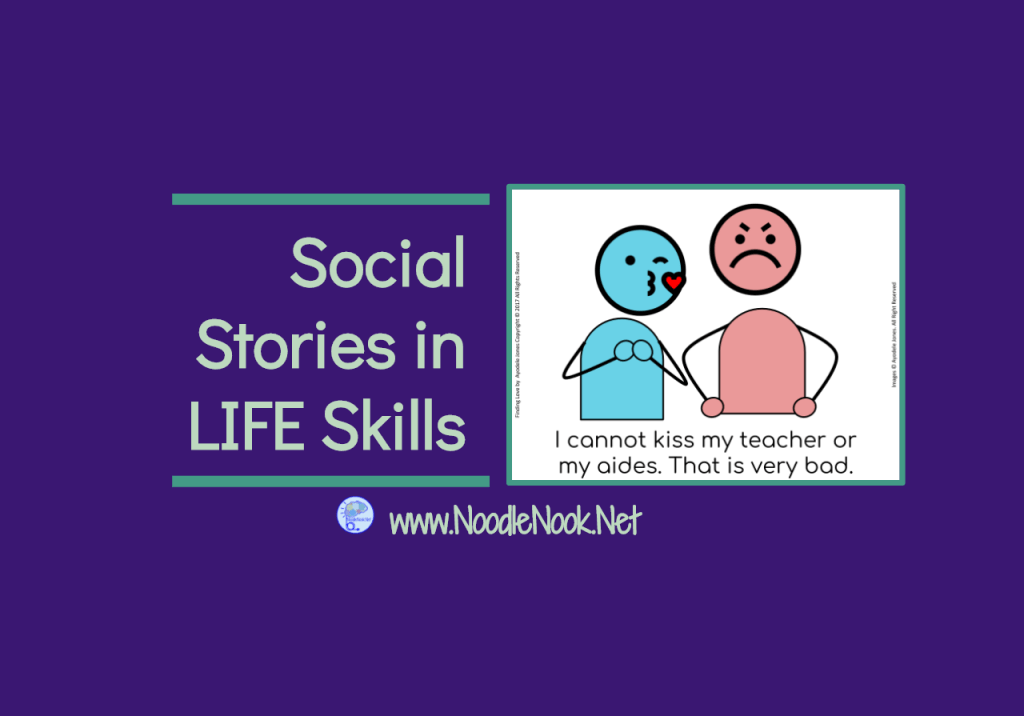 Sentence Types for Creating Social Stories
There are four basic sentence types that are used to create social stories. They are:
Descriptive Sentences. These are factual statements like "Some children ride the bus to school".
Perspective Sentences. These are statements that describe someone's thoughts, feelings, or physical condition like "Sometimes riding the bus makes me sad, but I have to ride it to and from school". This can also refer to other people's feelings and opinions like "The driver likes it when I sit in my seat on the bus".
Directive Sentences. These describe the behavior choices in a social situation like "when I get on the bus I sit down on the seat".
Affirmation Sentence. This tells the common cultural opinion like "It is important to stay in your seat on the bus so you can be safe".
You can also add a sentence on WHO can help when a student is in a specific situation (in this example, the bus aide or driver), and also analogies to explain different situations.

Want More on Social Stories?
There is a great tip and resource sheet from Vanderbilt Kennedy Center available online.  My Aspergers Child also a post that includes video social stories you can access online. There is just a huge list of videos available that you can start using today with no prep! There is an in depth guide for social stories including FAQs and supporting studies from the University of Pittsburgh. There is also text for social stories you can use today, just add pictures of your targeted student from PBIS World.
There are just so many ways to use social stories in LIFE Skills- there's no reason not to start today!
---