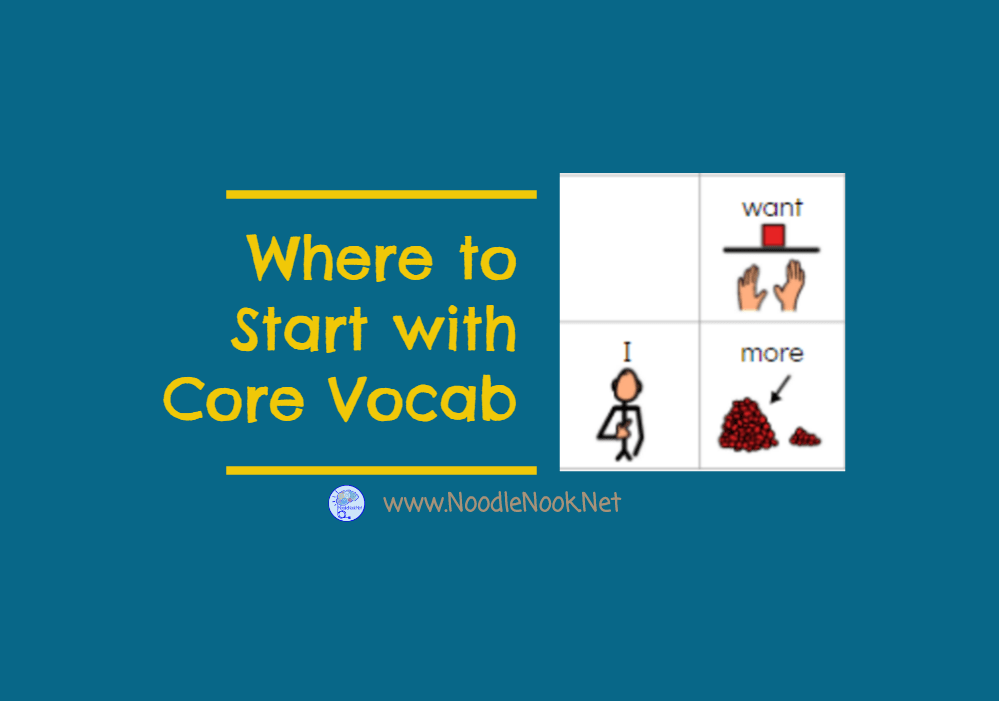 You may have read a previous post all about where to start with core vocabulary and communication boards for students who are nonverbal or minimally verbal. I have gotten a some great messages about AAC and core vocabulary success, but also questions on what to do next. Well, I've got a great roadmap for you!
Where to Start with Core Vocabulary
If you have not read the post on AAC and Abuse in kids who are nonverbal or minimally verbal, please pop over and do so. There you will find a FREE communication board you can place near the door in your classroom to teach the word "GO". Recently I was talking to a teacher who had great success using that FREEBIE board. He found his student was able to learn the word and effectively use the board to communicate places to go within one school week.
That's amazing!
More importantly it shows that with consistent use, communication boards can be successful for students. His question, of course, was what to do next?
To answer that question and give everyone some guidance, below you will find a road map to introducing core vocabulary.

What Word Should I Teach First?
As the last post on AAC suggested, teaching the word 'GO' is a great place to start. You will find there's lots of practical uses for the word in the classroom.
So what next?
Here are the next 4 words to attack as part of your Core Vocabulary training:
Want
More
Finished
Yes/No
AND, just because we love our readers, here is a FREEBIE communication board with these words as a visual to start. It will remind you of your target words and allow a student to not get overwhelmed with all the core vocab at once.
Please, please, please print it and get it going in your classroom- It will help!

But Wait… How Do I Teach the Words?
I am so glad you asked…because if you think you can plop this board (or any board) in front of a student and they will start talking with it, you're wrong.
What we do as a teacher matters.
To start, you will have to model, model, model how to use the board. That means to start YOU will be the one using the board the most. Every time you say any word on the board, point to the word. You can still talk normally, in full sentences or in fragments- but you have to give meaning to the words and images on the board by referencing them as you speak.
Next, you have to allow for plenty of wait time. If you think about using a communication board as a learning a new language, you understand how important it is to allow lots of wait time for a student to process the words and icons and translate them into something they understand.
Then start with hand-over-hand or hand-under-hand assistance. You want to converse with your student and allow them to share information with you- but they must do it with the board. Anywhere they want to go, they must touch the 'GO' icon. Anything they want, they must touch the 'WANT' icon. Ask lots of yes and no questions, and require them to use the corresponding icons. That can be with hand-over-hand assistance, but they must reference the icon for you to move on. You can't ask a question, wait for an answer, and then when you don't get one move on. Using the board can't be an option, it has to be a requirement.
Finally, link the words to real life by making two or three word combinations with fringe core vocabulary or real life items in the classroom. For example, targeting the word 'want' may look like pointing to the student, pointing to the icon, and then pointing to the item that the student desires. All of the words in a sentence do not have to be icons on the board. Start to string together sentences, just make sure the board is part of that sequence.
From there, it is time to expand the board to include more core vocabulary and repeat the process with the new words that you're targeting. More than 80% of all spoken language derives from a core vocabulary of about 250 words. That might seem like a lot, but even learning the first 25 words can get you access to a big big bulk of oral language.

Knowing Where to Start With Core Vocabulary is Half the Battle
Knowing the words and making change in a student's communication mode are two different things. A student learning new vocabulary may need anywhere from 50-350 repetitions before mastering the word. It is a long haul. You also have to get as many people to buy in as possible- that includes your classroom aides, parents, the PE teacher. Everyone. It takes a lot to get to 350 repetitions. If it's just you and you alone, then it will take longer to get to mastery. Get the cavalry in for this one!
The other part is the consistency. You have to make it a part of the routine the board must always be present. You must also be consistent with modeling as well as constantly asking your student to speak with it, even if they are verbal.
Cavalry and consistency are the other halves of the battle… so get the board and get to it. Having a mode of communication is empowering- and you will see change following the steps laid out above. No go forth and teach on!