Store Flyer Math Activities!
Every week I get flyers in the mail- so why not turn them into meaningful math activities in the classroom? Math is all around us. We use it everyday. And when I use it, it doesn't come in a math book… it comes at the grocery store, or when I spend money at a store, or when I pay my bills. So why not bring that real world math into the classroom?

Store Flyer Math: Getting Started
At the local grocery store near me, the new flyer is put out Wednesday morning, so I try to swing over Tuesday evening and grab some of the leftovers. If you are willing, talk to the store manager. They will hold them for you if they know you'll come and grab them.
Also, don't be afraid to change things up- grab the flyers at local drug stores, department stores, and even appliance stores if you have them nearby! The more variety you have with these, the longer you can keep the related activities interesting.
Okay, first step… Depending on the level of the kids in your classroom and how long you want to stretch the activity, you can have your students just pick items from the flyer or actuallycut them out to make them more kinesthetic. From there you can work on several different task.

Store Flyer Math Activities
So this is by no means an exhaustive list of activities you can do with a grocery store flyer, but it is a great start!
Addition: Student can work on adding items and doing so with and without a calculator.
Subtraction: By determining their change, student can work on subtraction skills.
Multiplication: What about getting multiples of certain items… Bam! Multiplication!
Division: Can we split the bill between two or three people (just like with roommates)?
Percentages: Calculating tax and discounts is great real world math.
Rounding: This helps a lot when working on the one-up method of paying for items.
Estimating: About how much will items cost? This estimation skill can help ensure our students don't get taken advantage of when they are shopping. Estimate total and change!
Planning: Meal planning and prepping a grocery list can be done with a flyer. Looking to incorporate more math? Then…
Budgeting: Planning a meal within a budget and making your dollar stretch are great real world math problems.
Graphing: Plotting the costs (rounded up to the dollar if you like) of items in the flyer can be a great graphing or plotting activity.
Geometry: Categorizing the items based on shape fits right into the Geometry framework!
Algebra: Solve for 'x' by calculating how many of an item you can purchase with a specific amount of money (ie: how many cans of tuna can I get with ten dollars: ($1.67)(X)=10) setting up and balancing equations feeds right into Algebra!
Comparison: With two flyers, you can compare prices and find who has the better deals.
Oh my… so much you can do with a flyer!
Prepping the Materials
If you already have your flyers and want to get started, but need more concrete materials to teach from you can get this printable Grocery Store Flyer Math Task Cards– for a FREEBIE, download the PREVIEW file for 4 free task cards to get started. You can also use a flyer with this Money Math Printable (read more) and get your totally FREE printable! Or download the full printable <HERE>.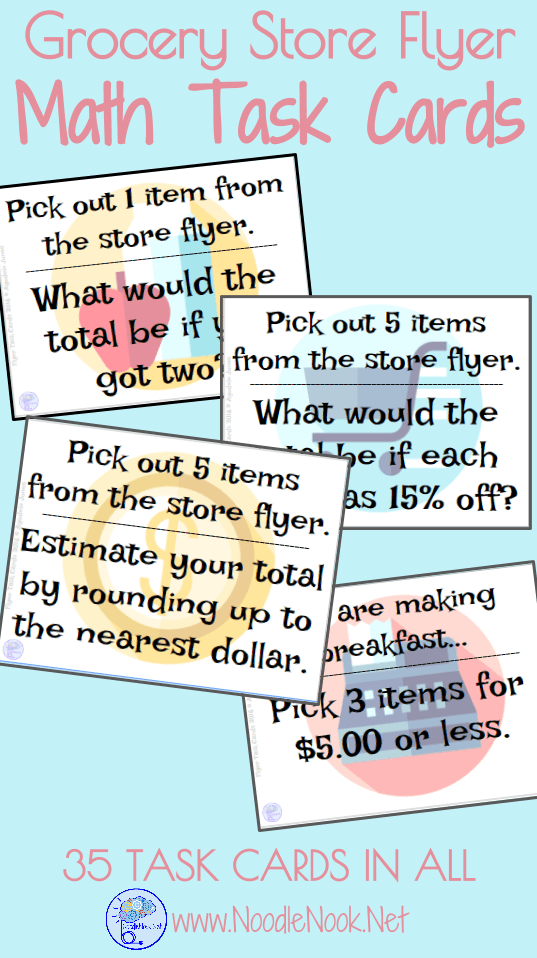 Either way, real world math is the perfect center addition or activity to work on meaningful and functional math skills. Hopefully you will add it to your lessons today!
Do you have ideas on using flyers in your classroom? Add your suggestions to the comments below!
---