Teaching Literacy to Students with Autism
I read a lot… I wish I had time to read more! I recently read an article about instructional level text as a tool to improve reading. This has always been something that has bothered me. Teachers have long believed that the only text appropriate for older students who happened to be low readers is instructional level text. In other words, text that corresponds with their assessed reading level. I have always thought otherwise. When you get to students in middle and high school, presenting only instructional level text limits a student's exposure to challenging materials and also throttles their learning. So what does that mean when you're teaching literacy to students with Autism and significant disabilities?

Dora in High School
It never fails, at least once a school year I walk into a high school classroom and see an almost adult reading a Dora or Barney book.
It literally makes me groan.
What would make anyone think a 17-year-old would want to read a Dora book? Whenever I talk about it with the teacher, the reaction is always the same. The student is reading a book that is appropriate for their "instructional reading level".
It sounds very formal, and almost convincing… But truth be told, teachers have been holding on to the idea of instructional level text for so long- does it really apply when you're teaching literacy to students with Autism or other significant disabilities?
Personally, I don't think so.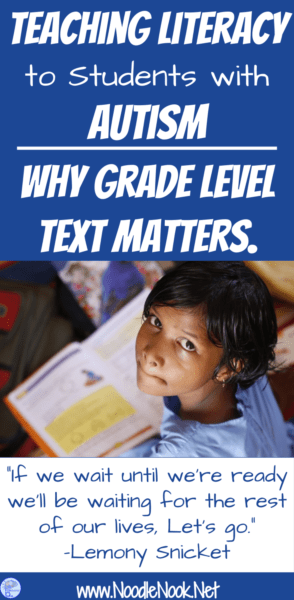 Ready Means Never
Lemony Snicket said it best:
"If we wait until we're ready we'll be waiting for the rest of our lives, Let's go."
As teachers, we often times get caught up with the normal sequence of learning to read. To be able to identify letters, decode words, and read simple text before we move onto more challenging literature. The problem is our students end up stuck on one of these levels for years and years- even decades. Is it fair to deprive them of learning upper-level thinking skills and rob them of the chance to read classic literature just because they can't they code?
There is a place for both kinds of instruction in a classroom, especially when teaching literacy to students with Autism. You will have to work on the decoding side by side with more challenging text so that students can develop critical thinking, problem-solving, and upper-level thinking skills. Of course this will happen with lots of scaffolding, concrete references using visual aids, and sometimes modified comprehension questions to meet the students needs, but if we wait until they are ready, we'll be waiting forever.
Presume Competence
This all harkens back to the idea of presumed competence. If we're making the least dangerous assumption with our students, we are obligated to present them with instructional text that is appropriate for their enrolled grade level. And with all of the recent changes in the laws that dictate the curriculum we use for students with disabilities, legally we really are obligated to provide our students with access to the general ed curriculum.
So What Do I Do?
Decode words is the single greatest predictor of future reading ability. You should absolutely be teaching students phonics, phonemic awareness, and decoding. But don't stop there. Read to your students. Read them more challenging texts so they can hear about characters, how they are motivated, and learn about story arc. You can also model self-talk and pull out social narratives from the text.
Does this mean your medically fragile student is going to read War and Peace cover to cover? Depends on how much time you have… but why can't they. They may like the soothing nature of your voice. They may like the story more than hearing Episode 201 of Dora the Explorer for the umpteenth time. And if you are not a natural reader and have to keep your eyes, ears, and hands ready for other students, try a book on tape (CD) or Audio Book. I have a list of FREE Audiobook sites listed here.

Adapted Novels to Teach Literacy
I love adapted novels. Whenever I train school districts how to adapt novels for their students with significant disabilities, Autism units, or self-contained classrooms, I get a kick out of seeing teachers get excited about literacy.
There are novels adapted and ready to go (you can find some here), but you can also adapt novels yourself.
Think if it like writing a movie review on a book. Start with just a few paragraphs about what happens in a story and add a few images to give visual context. The most important thing is to NOT pigeonhole your students into Dora all day long… offer some text beyond their instructional level that is age appropriate. Your students may surprise you!
Now go forth and teach on… with Adapted Novels and presuming competence.