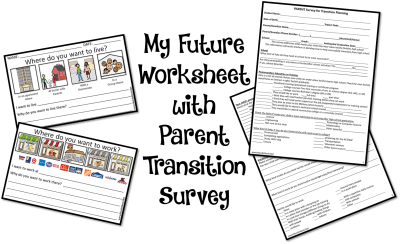 Transition Planning
In LIFE Skills, there is always lots of paperwork- and transition planning worksheets are one piece you must have. To make that easier, this visual questionnaire is a great resource, but don't stop at the student. Be sure to include the parent's plans as well!
Transition. Really?
Yeah, I know it is not the most exciting thing to think about with a student who may have 8, 10, or 12 years before they graduate, but we should always be thinking about a student's transition goals. It should be driving how you create a student's individual plan… after all, part of our goal as a teacher is to make our students ready for their post-secondary lives. In order to do that, we have to know what those goals are.
I'm Gonna Be a Doctor!
Yes, that student who is barely reading over a first grade level and is still struggling with good hygiene is convinced that they are going deliver babies! Okay… maybe that is not the best transition planning guide for a student with multiple or severe disabilities. Instead think about how you can use their future goals to guide your goal writing and program planning in a realistic way. Yes, they want to be an OBGYN. That is never going to happen. But could they work in a hospital? Or at a medical office complex? What skills can we give them to be successful in those settings? That is how we use over the top transition goals to guide us.
Do a Worksheet Every Year!
Just like everyone else, what I'm going to be when I grow up changes all the time. When you are getting ready for an IEP meeting, I would complete a new one of these so that I can reflect on any changes a student has in their transition goals. The other thing you always want to consider is the transition plan of the adults in your student's life. A parent or guardian's input should be reflected in student programming and planning- and that is no different in the transition piece. Be sure to include their voice. How can you do that? Call them up! They would love to talk about their baby. Or send home a quick survey and have them complete it so you have the information you need.
Just Do It.
The most important thing is to make sure you have a good idea of a student's needs based on their transition goals as well as allowing a student and parent to have a voice in an IEP meeting. Get a FREEBIE printable of the two student questions listed below (Where do you want to live? and Where do you want to work?) by visiting the NoodleNook Teachers Pay Teachers Store and downloading the PREVIEW!
Like this resource? Make sure you Tweet, Pin, and Like this post so others can find it too!