Work Boxes in Autism Classrooms
Have you decided you need a work system in your classroom? Not sure what to do next?
Vocational work systems have a lot of benefits for students with Autism- but the most important is that it systematically works a student towards independence. And we all benefit from that!

Why Do I Need a Work System
Do you even need a work system? My guess is yes. Why? Because you want your students to be able to work independently without an adult at some point… right?
That is the goal of setting up a work system in an Autism Unit- to help your students build a structure that will support them working independently. In a prior post, we talked about the rationale behind setting up a work system and the 4 things you need to know. If you missed it, please read it <HERE>.
When a work system is setup appropriately, your work boxes can contain any type of work from academic to functional across all content areas like vocational to science to even leisure.
The Types of Work Boxes
In general terms, there are four different types of work boxes in Autism settings. They are
Assembly Work Boxes
Sorting Work Boxes
Put In Work Boxes
And Coordination Tasks
You can read more about these four types of tasks <HERE> .
What Kind of Work Boxes Should I Have?
You can make work boxes in Autism classrooms out of pretty much anything, just follow the guidelines and categories. I had a set in my classroom of about 30 sets that I made and most of the materials came from the Dollar Tree near my house. After some trial and error with the shoebox tasks, I finally wrote down the directions for my vocational tasks and made a product. The important thing for me was cost. And with all the stuff coming from the Dollar Tree, I knew I wouldn't break the bank.
If you want to see those work task boxes, click <HERE>.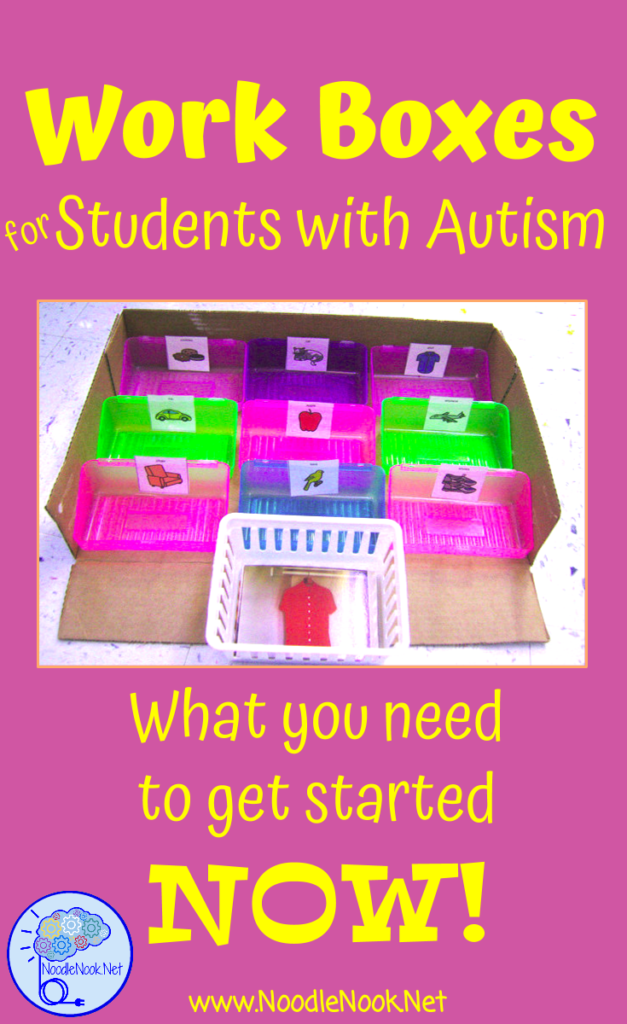 Not Sure You Can Do It?
First off, you can do it! But if you want to learn more about how to get students with severe and profound disabilities to work a task box system, then please visit the people at Centering on Children, Inc to read a quick piece on shoebox tasks… and they have a great list of ideas on the bottom of this page <HERE>.
Also, Breezy Special Ed did a 5 part series on Work Boxes in Autism Classrooms… so check out her post loaded with great visuals <HERE>.
And you might as well print this gem from Teaching Exceptional Children which has everything else you need to know <HERE>.
What matters most is that you have a clear procedure and predictable routine- and that you start today.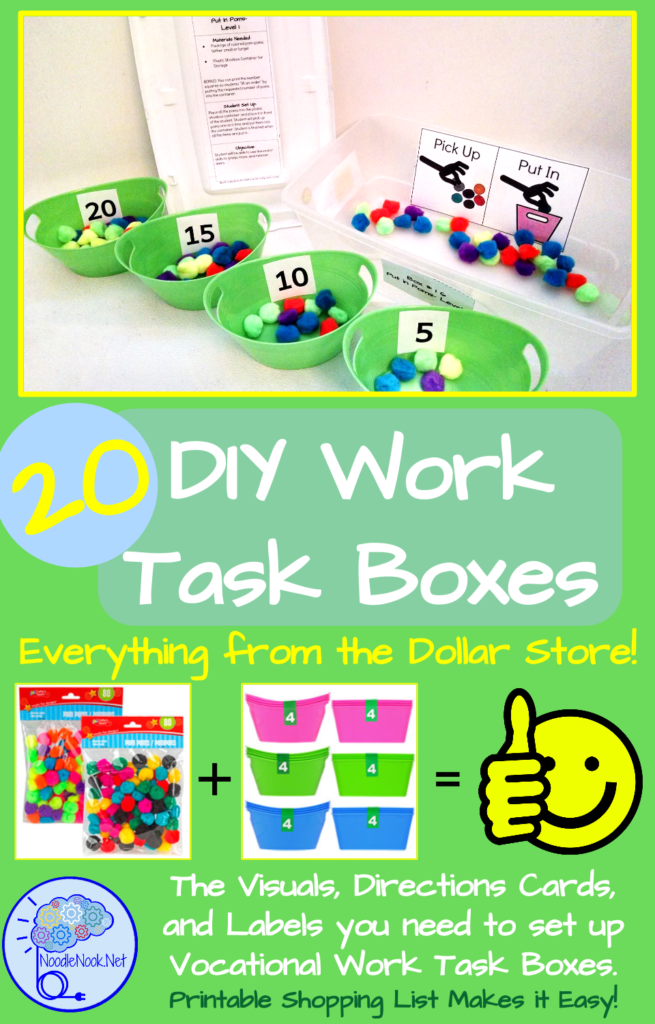 So What Now…
You can literally start a system tomorrow of sorting tasks. You will have to model and support a student when they first start and it may not feel too 'independent' at first. Be sure you have visuals and the physical structure your students need to be successful… and a great plan to fade your support and make them more independent. I know at first it is hard, but it is worth the effort.
I suggest you follow my Pinterest board <HERE>, I post FREEBIES all the time that would make perfect academic work boxes in Autism classrooms or even elementary general ed. Click <HERE> to visit my boards and follow me today!
Also, if you think others may benefit from a work box system, pin this page now.