Choice and Voice for Every Students… Are you Writing with Nonverbal Students?
Writing with Nonverbal Students
Premium parking… that is what I call it. Have you done it? All the students are gathered 'round for the writing lesson and they are writing with their pen and paper, using their device, or dictating their response. All except that one. They are just plopped down near the action- they are not participating at all. Premium Parking. Writing with nonverbal students is hard to do. So, what can you do to make the writing lessons in your classroom meaningful?

Form Versus Function in Writing
First things first… there is a difference between the form of writing and the function of writing.
Form: the ability to physically hold a writing tool and make meaningful marks on paper.
Function: the ability to express wants, needs, and ideas through writing.
I was in a classroom today and the para had taken a piece of paper and a highlighter to write the student's answer to a writing prompt… The student never gave any indication what they were really thinking. The prompt was "What is your favorite food?" and no one ever asked this student. The para wrote the answer "Pizza" and the student traced it. Form or Function?
This one is Form- practicing letter writing is all about a working on a skill.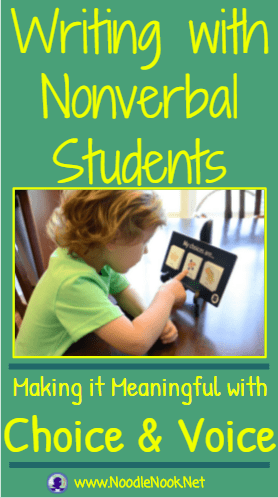 But what if instead the para had a couple of picture icons and the student was able to choose the one he really liked best. Then he placed that word into a sentence stem of his choosing. That would have been a totally different experience. He would have been writing then- all without picking up a pencil or pen. That is Function!
Sentence Stems for Writing with Nonverbal Students
So, what is a sentence stem? It is the start of a sentence already ready already! I want you to have some to start and they are available HERE– just download the preview for THREE FREE Sentence Stems.

How do you use them? With a student who is participating in lessons at the hand-over-hand level or with lots of physical prompting, we want to offer choice of responses (like between chicken and pizza), and then voice that choice by placing it in a sentence stem. At this level, we as the teacher would probably choose the stem "I like___". CHOICE AND VOICE!
With a student who has the ability to interact more, they may choose between two or more choices. Those choice may or may not have a picture icon with them (you could literally write three choices on post-its and let the students pick one), and you may also have them pick the sentence stem. They could choose between "I like__" and "I don't like" as their response.
You would then voice their choice by reading it aloud. CHOICE AND VOICE. Yay!! Writing!!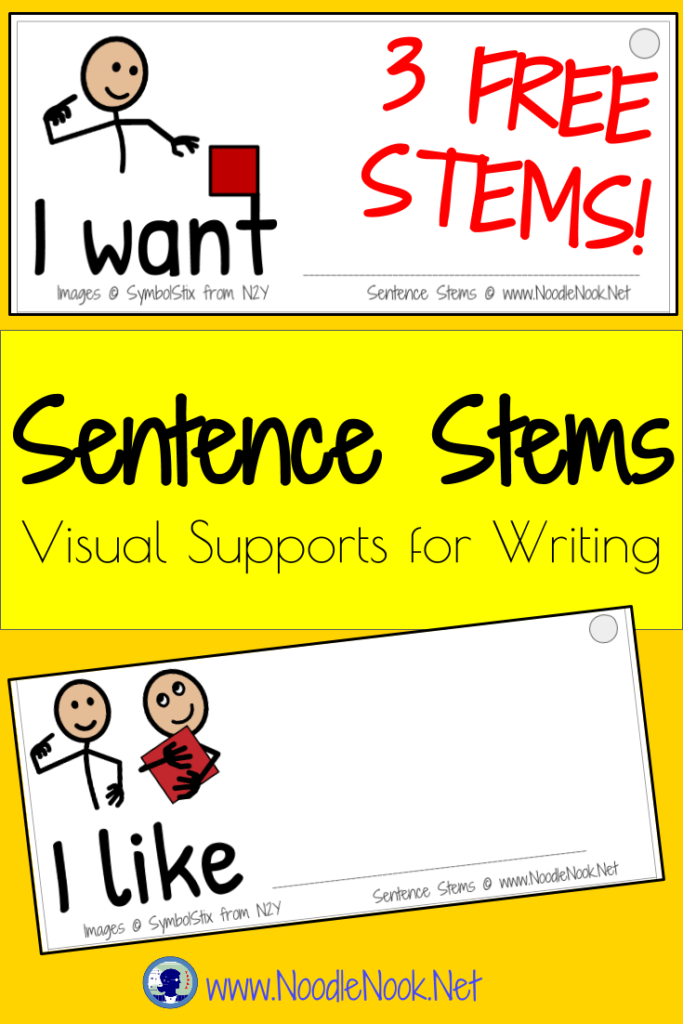 For a student who is more academic but still nonverbal, presenting choice of responses from three or more and then presenting a choice of sentence stems from 2-3 or more is great. Voice their choice and then have them work on the form of writing by using that as a guide as they write. With this format, though, it is more than just rote tracing or copying. CHOICE AND VOICE.
Copying is not writing!
Writing with Nonverbal Students- Start NOW!
Working on communication in addition to writing? You may want to get some icons in your classroom that you can pair with real physical objects. Check out the PECS Starter Kit and see what that looks like. You don't need this kit, but it helps. Instead of the kit, use any picture-word or word only association between items and incorporate those into the sentence stems. Remember, it is all about authentic response through Choice and Voice- the Function of writing!
Do You Still Need More?
Teaching students who are nonverbal to use a robust communication system can be a challenge. It will really depend on you, not your student, being dedicated to developing a better communication system for a student who is nonverbal. There are many models you can use for developing better communication, like PECS, Core Vocabulary, or AAC. If you have a student who is ready to develop the next level of authentic writing, try an alternative pencil. You can use this as a means to promote overall communication as well as writing.
Lucky for you, you can get a FREE Printable Alternative Pencil as well as a full guide here: PRINTABLE Guide or the Quick Guide for how to use it from the folks over at CLDS in Chapel Hill. With the guide and pencil, you can start some partner communication to write during lessons as well as communicate in general. Remember, a student does not need to know their letters to start with this system nor do they need to be consistent in choice making. The process of writing will help them learn to write… Your student's success will depend on you being consistent, patient, and persistent. So stay calm and teach on!
Want to make sure you get new posts in your in your inbox? Subscribe now so you don't miss a thing! Check out these posts for more on how to work with students who are nonverbal including:
Finally, if you are needing something for your students to get you started, check out these materials for your classroom that can get your students engaged and interacting PLUS communication tools that may work for your nonverbal students!