You need vocational activities in your classroom. You also want them to be meaningful and actually teach new skills. But do your students somehow end up sorting the same 2 or 3 items over and over? Yikes. Here are a few quick ideas for more and easy ways to make what you have more meaningful.

Quick DIY Task Boxes
Making new task activities can feel overwhelming. What can you put together to make something that actually works for your students? It really is not that bad… once you know what you are looking for.
The easiest way to start? Every classroom I know of has an infinite number of paper clip boxes… Grab a box of large and a box of small and let's get started!
Most teachers who work in Vocational Prep or Life Skills will look at those two boxes and see a simple sorting task. What can you do that is more? Grab a box of Ziploc baggies and let's move this from Sorting to Assembly. Your directives will change… Students will put one small and one large clip into the Ziploc. Bam! Much more than sorting.
Want to kick it up another notch? Add a Sharpie marker. Label about 10-15 baggies with some combination of small and large paper clips. Something like this:
Be sure to mix up the combinations on several baggies. Now you have a more complex task.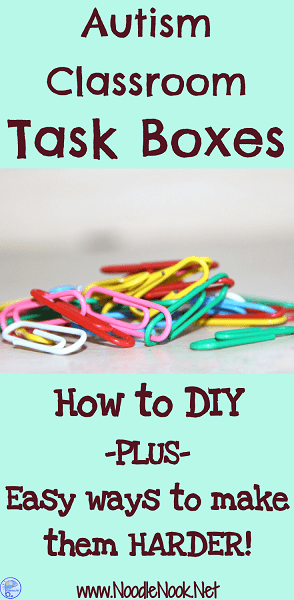 Need even more complexity? Got you there too. You will take what you already have and add a stack of Post-its. Take as many Post-Its as you have baggies and write some numbers on them from 1-5. Now insert one Post-It with a number on it into a baggie with the 'order' on it. That is the number of orders that baggie needs so, with the same order as above plus a Post-It with '3' on it your students would put in:
Now a student has gone from simple sorting, to some assembly and up to order fulfillment. Not all students would be able to fulfill an order without some kind of visual aid. Remember a number line will greatly help students be successful.

Ideas to Making Task Boxes More Meaningful
In the example above, you can see how they activity went from sorting to something more.
Recap real quick of the paper clips: A Level 1 student is sorting, a Level 2 is doing assembly, Level 3 is doing order fulfillment, and Level 4 is doing assembly & order fulfillment. All with 2 boxes of paper clips. It can be easy to take this model to whatever you have sitting around your desk. Got a stack of pencils and pens? Works with those. How about plastic forks and spoons? Yup- you can do this too.
If you are starting from scratch and are looking for more easy to make task boxes, check out this NoodleNook bestseller; Dollar Store Task Boxes, More Dollar Store Task Boxes, and Task Box Bundle.
The important part to remember is that the simple task of sorting needs to be made into something more. Think of ways to incorporate assembly and order fulfillment into your work systems.
---
---
How to Do Real Vocational Training
When you get to work, do you sit at your desk and wait for your students to come in? Just sittin'. Doing nothin'. Nothing? Never. You start your routine. You get a cup of coffee, finish your breakfast, check your emails, and do actual work. Sitting and waiting would be weird.
But what do most of our students do when they come to class? You guessed it, sit and wait. They wait for someone, a teacher or an aide, to tell them what to do or get them their first activity. That is not how real work works.
Start to do real vocational training. Set up a schedule of work that a student can check and self initiate getting started. Have them be responsible for getting their own materials. Make a grooming check part of starting the job. Set routines and procedures in place that mimic the real world more. If you want to read more about great opening routines, click here to read Morning Routines in Autism Units.
So, with that, Stay calm and teach on!