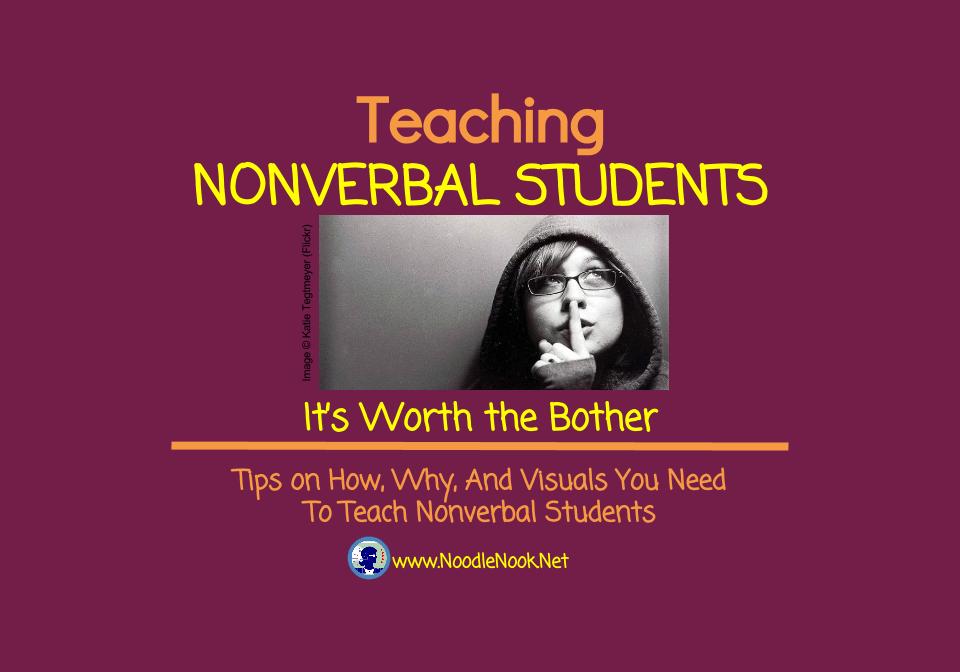 Teaching Nonverbal Students
I was giving a training tonight and it happened… the words that sent shivers down my spine.
Why even bother.
What!?! Why bother? Is that for real!
I understand Why Bother for some things- like waking up early to work out or changing out of my stretchy pants.
But Why Bother with teaching students? Uh- not okay.
So let me give some context because I'm sure this teacher is not the only one.

My Experience Teaching Nonverbal Students
A few years ago I taught over the summer. Most of my students were nonverbal or minimally responsive (or only verbal with intensive prompting). It was hard because sometimes it felt like I was having entire conversations with myself. Someone else in the same situation might ask: Why Bother? But what we have to remember, especially with students with Autism, is that part of their disability is difficulty processing auditory information. That, however, does not mean they cannot hear you, they do not understand you, or are not listening to what you are saying. I talked about this a lot in the post about Least Dangerous Assumption, but it deserves recapping. We, as teachers, must always assume our students are fully aware, intellectually competent, and, though they may struggle displaying it, just like any average Joe. We assume all of these things- no matter what. When we do that, we do the least amount of damage if we are wrong.
Tips for Teaching Nonverbal Students
With all that in mind, we as teachers should never ask Why Bother… we should always bother. Do you need more about how to do that effectively? Please look over my old post on Teaching Math to Nonverbal Students if you are wondering what math instruction looks like for students who are challenged with communicating. Also read Comprehension and Nonverbal Students for more on reading activities for students who struggle with expressing. Finally, read more on how to Offer Choice to Nonverbal Students– and this applies to every instructional setting.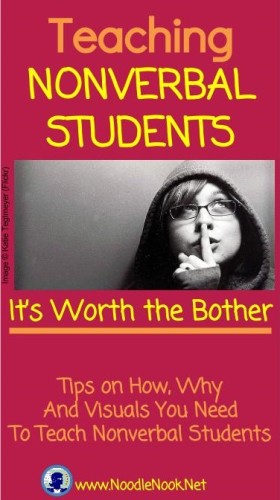 Teaching Nonverbal Students- Please Bother!
Teaching nonverbal students is hard. There are lots of instructional strategies that you can use in the classroom to make LIFE Skills, Autism Units, or PMLD classrooms run better which include things like wait time, visual supports, and alternative communication (like core boards or comm boards). The one thing you must always remember is that every living & breathing human in your classroom is worth the bother.
Tips on Teaching Nonverbal Students
From another post, this is a great tip sheet for teachers and is repinned a lot on Pinterest– Print it and put it in the classroom to remind you and your staff about best practices!

---
---
---